PGI offers high speed horizontal machining with a full contouring  4th axis to simple simple 3 axis cnc machining.  See equipment list for size capabilities.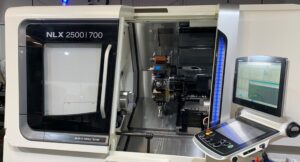 PGI's CNC lathes vary from regular 2 axis turning to 2 axis with live tooling with 60" between centers.  See equipment list for size capablities.
PGI has been building a huge variety of parts on the wire edm for almost 30 years.  PGI's largest EDM capacity is L23.6 x W15.7 x H12.2
PGI is a precision machining facility located in the beautiful Southwest United States in Albuquerque New Mexico.  PGI specializes in precision milling, turning, wire EDM (Electric Discharge Machine) of a vast number of conventional and exotic materials serving the aerospace and defense industries for over 49 years. Whether your needs are simple 2 axis milling /turning or complex 4 axis 3D machining PGI has the experience and equipment to tackle the most challenging jobs, PGI  specializes in manufacturing products the require a variety of machining, plating, painting process combinations.